Hoverwatch Review, Features and Compatibility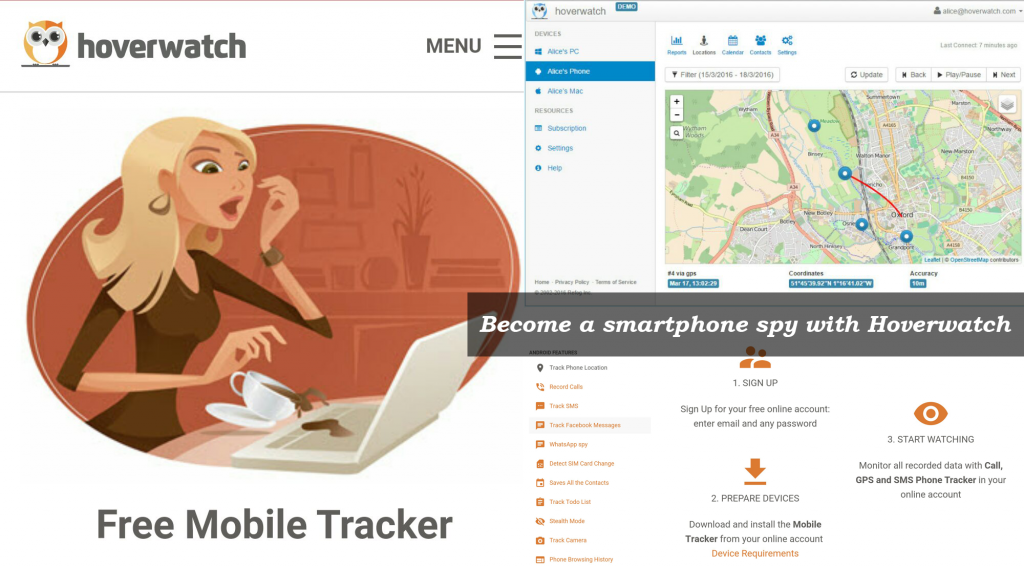 Hoverwatch is one of the best cell phone trackers. It is multifunctional and can be used for tracking all activities of the owner of the target device: SMS messages, call logs, audio files, camera activities, GPS locations, chats via social media (WhatsApp, Viber, Facebook), web browser history, calendar, names of contacts. Not only concerned parents can get benefits using Hoverwatch surveillance software. Actually, this app could be useful for tracking phones of significant others and employees. But if you are going to track devices of adult people, they should be warned about this. In this case, you will not break the law.
What should you do to use Hoverwatch?

This app is user-friendly so it's easy to install it. Follow 3 easy steps:
Sign up – You should sign up your free personal online account using your valid email and suitable password;
Prepare the target devices – On this step you should download the installation file of Hoverwatch and install it. You can find it in your personal account;
Start watching – After the installation, you shouldn't do anything else. You can start spying from that moment. You can monitor all recorded data, including phone calls, GPS locations, media files, etc.
Compatibility of Hoverwatch
Hoverwatch is the app which can be used on both mobile devices and computers. The functionality of these versions differs, but nevertheless, it surprises with complexity. The app is compatible with:
Android devices;
Windows PC;
Mac computer.
Key features of Hoverwatch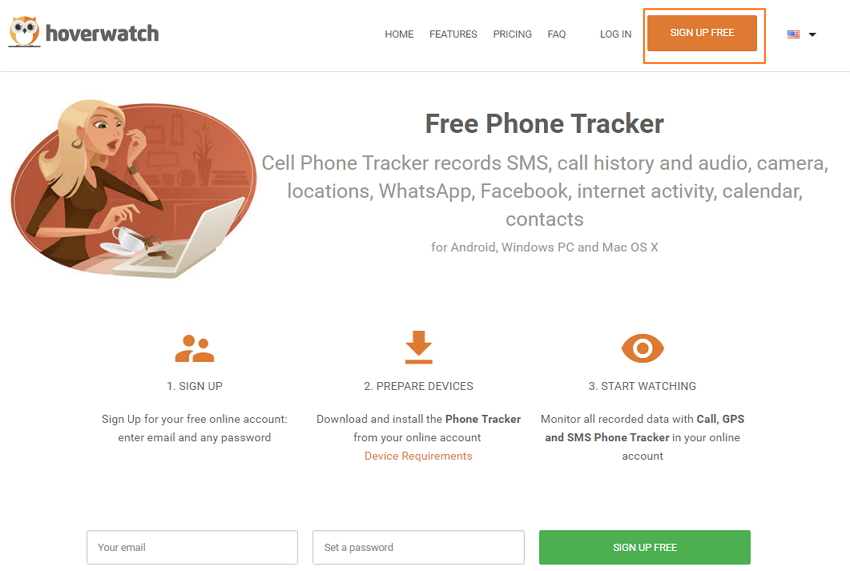 Android monitoring
If you use Hoverwatch for monitoring Android devices, you can get a wide range of useful spying features. You can look at them below or on the official website https://www.hoverwatch.com.
Monitoring Text Messages and Calls. This great tracker for Android devices allows you to track and view all incoming and outgoing calls. You will be also able to monitor and read copies of all SMS and MMS messages. You will have access to received and sent messages. The app makes it possible to read the copies of the text messages and see the names, numbers of senders or receivers as well as date and time logs. There is another great option of the app – you can track all images that were included in the SMS;
Social Media Tracking. It is a good news! Using this app you can monitor all activities on WhatsApp, Viber, Facebook, and WhatsApp. This cell phone spy application will be your helper if you want to read someone's activities on Viber and Facebook account. Hoverwatch enables its users to track media files that were sent or received;
Tracking Geolocation. This useful monitoring feature of the tracker helps its users to track and view on the map the current location of the owner of the target device. The user can do it using his account. The technology is that the android spy app uses cell phone towers, all Wi-Fi signals, and GPS technology in order to track the exact location of the target device;
Photo from Front Camera. It is a great innovative feature. Hoverwatch SMS tracker includes a feature which activates the front camera and makes an automatic photo. In means, that every time when a user unlocks the screen of his device or take a call, the app will take a photo.
Windows PC and Mac Computer monitoring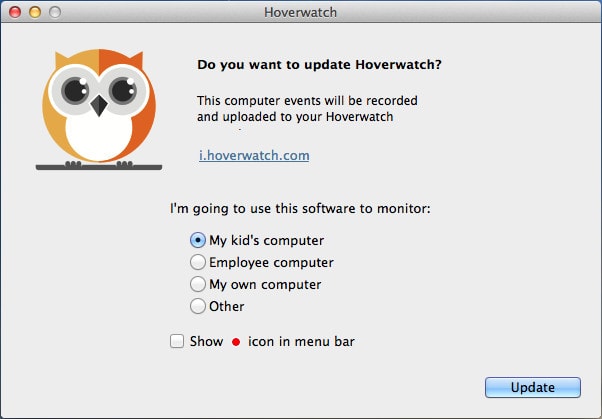 There are special monitoring features which you can use when monitoring Windows and Mac computers. The main of them are the next:
Monitoring of Browser History. You will have an opportunity to save the history of web browser – URLs, bookmarks, website titles, time logs;
Making Desktop Screenshots. Hoverwatch will make regular screenshots so you will see what the user does at any moment;
Tracking Keystroke Details. The Hoverwatch spy app lets you monitor usernames, passwords, search requests. And even the text that was typed with the help of the keyboard of the computer;
Making Webcam Photos. With the help of webcam photos in real time, you will easily monitor the surroundings;
Tracking Messengers And Chats. The Hoverwatch phone tracker enables you to track text messages that were sent or received via Skype, iMessage apps.
Pricing Policy
Hoverwatch provides two different plans for different purposes. The price depends on the number of devices that you want to monitor and the term of the license. You can choose the plan which suits you the best. For example, if you have several kids and want to spy on several devices you can choose a Family plan. In this case, you will be able to save your money. So look at the package conditions and price:
Personal package: This Hoverwatch's package allows monitoring only one device. You should pay $19.95 for a 1-month license, $49.95 for 3-months license and $95 if you want to get a12 months subscription;
Family package: You will be able to monitor 5 devices and save you money (up to 60%). As for prices, they are quite affordable. You should pay $95 for a 1-month license, $99.95 for three months and $199.95 for a year subscription.
Alerts On SIM Card Replacement
There is a great option of Alerts in the case of SIM card replacement. It means that you will be able to monitor the target device even if the user of the phone changes the SIM card. Hoverwatch will send you a notification if the user of the phone decides to replace his or her SIM card.
So Hoverwatch will be a right choice if you are going to track someone's device (cell phone, computer) and online activities. With the help of Hoverwatch, you will be aware of all incoming and outgoing calls, SMS messages, activities on social media, web browser history.
Sure, when it comes to monitoring someone's phones or tablets there are privacy issues. We should think well when using spy apps in order to follow the law. The matter is that we should use spy apps wisely. If technologies and your children's welfare do not contradict each other, then you can state the fact that you are doing everything right. In these cases, monitoring activities of kids' devices by the parents should be supported. And we can use Hoverwatch for this purpose.