6 Best Parental Control Apps for iPhone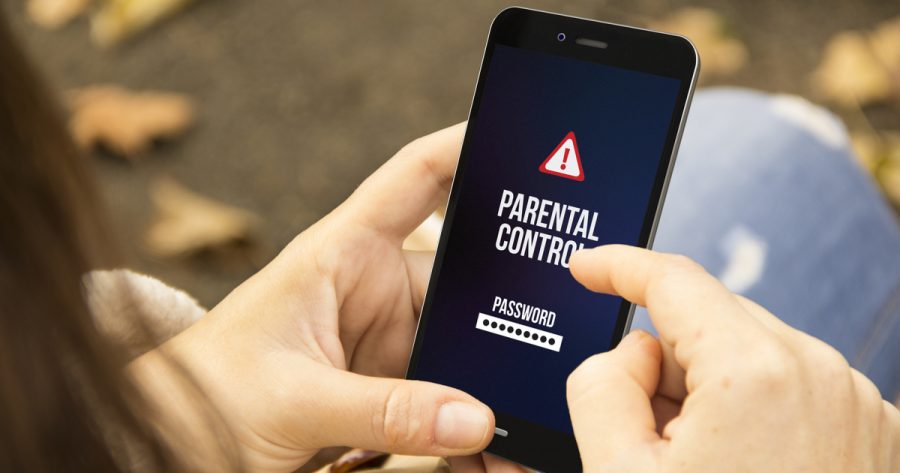 What is more important for every parent than his/her child's security? Today children are much smarter and more technology-wise than their parents. Parental control apps are getting more and more popular. And it is tough to choose the best free parental control app for iPhone these days.
In this article, we are not talking about the best free parental control app for the iPhone. You should realize that there is no reliable and robust parental control and iOS with a low or even free price.
We tried to focus on the main aspects every user is relying on if he or she installs the best parental control app. Cell phone monitoring apps should have flexible design and usability, a blocking option to ban inappropriate content and sources. This is a must among parental applications. Check out the best parental control app to monitor your kids' iOS devices.
Related post: Best parental control apps for Android
What are the selection criteria for the best parental monitoring app?
Installation: The best parental control app should be easy to install on the target device.
App management: Most users spend more time on their smartphones, and parental control applications should be easy to use both on PC and smartphone.
Filtering: Each app should have a reliable filter list to keep your kid away from trouble and inappropriate content.
Text tracking: Modern kids do lots of texting every day. And if you can track those messages, it means you are aware of everything that is going on. Also, the app should be able to block even contacts to prevent any bullying or anything like that.
GPS location tracking: A common and essential feature every parental control app should have. It makes you able to track your kid's every step in real-time.
Price: The price of a phone control app should be affordable and reasonable.
Also, we tried to find any special features a parental control app offers to its users. Social media is critical these days, and its tracking becomes more and more important to a parent who wants to monitor his kid's activity. An honorable mention goes out to apps that act as a website blocker: they effectively block or limit time spent on a website.
Best parental control apps for iPhone
Let's start with the best parental control app for the iPhone. We must note that lots of applications are compatible both with iOS. But some of them work better with just one of those popular operating systems. Here are those better to use on iOS.
mSpy: Best iPhone parental monitoring app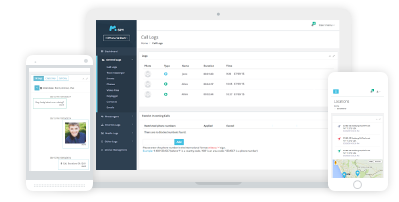 mSpy is the best iPad parental control app for Apple iOS devices. mSpy allows you to view SMS details and works on both Android and iOS.
It also allows you to use geofencing to track your child's device, access all social media platforms like Snapchat on both Android and iOS, and check emails and monitor text messages.
This parental control application with geofencing works on all Apple devices such as iPhones and iPads. To download it, you don't even need to visit the app store, just press the button.
Bark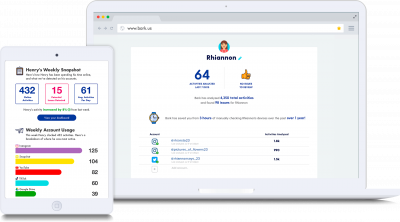 Bark is yet another parental control application and app blocker that can be used for iPhones and iPads. Bark's parental control allows parents to achieve complete peace of mind when it comes to ensuring the safety of their children. It helps them stay peaceful about the fact that their children are probably learning about web designing and development rather than consuming explicit content online.
Bark's award-winning dashboard lets you proactively monitor multiple aspects of your children's device and keep them from coming to harm. Bark is 4 times more efficient as compared to its closest competitors.
When using Bark, you have the option of monitoring social media, email, text, and all online activity around the clock. Whenever there are signs of cyber-bullying, depression, or objectionable online activity, you will get automatic alerts that can help you block apps and save your children from harm. You'll also be able to see if they're visiting useful websites with tech guides and gadget reviews.
Screen Time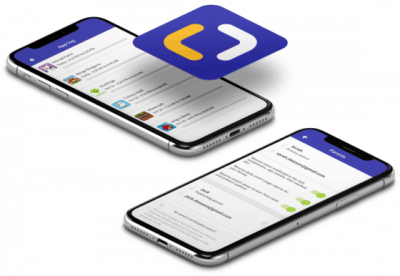 For modern-day parents, this is a blessing. With over two million downloads, this is one of the best parental control apps. With Screen Time app blocker and geofencing, you can take back control of your child's Apple iPhone or iPad.
Using this app blocker, you can use the time management tools to limit your children's screen time and encourage them to complete homework and assignments on time. You can even manage your kid's schedules to ensure that they focus on the essential tasks in their life and don't give in to distractions.
And the best part, you can even put a stop to your child's unwanted smartphone activity with the pause option.  Monitor web history, block apps, and use geofencing features to track your child.
OurPact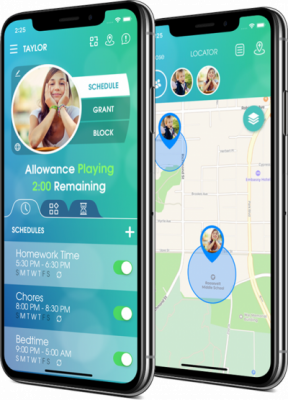 Another amazing iPhone parental monitoring app that can solve all your problems is OurPact. With this tool, you can track a child's iPhone and Internet use. This app offers an excellent browser for Safari, which lets you monitor a child's iPad and iPhone.
Go to App Store and type OurPact.
Choose OurPact Safe Browser and touch the FREE button. It will let you install the app.
If you want to select limitations for the target iPhone, select Settings – General and find Restrictions. Here you should enter a 4-digit code that you have to remember to change the settings.
In the Settings section, parents can choose what kind of content (TV shows, websites, movies, etc.) is allowed for the children and what kind of apps they are allowed to use. The user of the target IOs device can disagree with the blocked content and request an override. You only should review the content and reject or allow this request from your account. Parental control of children's devices has never been so simple! The Basic version of OurPact is free. But the Premium version allows you to access requests and have a lot of other helpful features. Check out this fantastic solution to all the parents' problems.
Net Nanny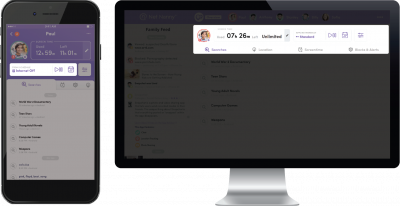 Net Nanny turned out to be one of the best parental control apps we've tested to include in this article. This application is one of those with extremely tough filters to block inappropriate content and websites. It may stand at the same place with ESET. Any inappropriate, adult and violent images, videos, and sources will be blocked immediately and totally. There is no way your kid can turn it off somehow. Also, it prevents applications, as well. It's a great way to ensure that your kids are more productive.
Net Nanny will be a perfect choice if you need to set time limits for some specific applications or websites. All those social networks are elementary to manage with the help of this incredible application. It has a minimum to offer as a texting monitor, but its other parental control options are great.
Also, Net Nanny is the best choice if you want to use it as a parental control tool on just one device. You may use a free trial package within fourteen days. Then if you like the app, you can buy it paying only $13 a year. The price is just more than affordable and reasonable, counting all its advantages and features.
PumPic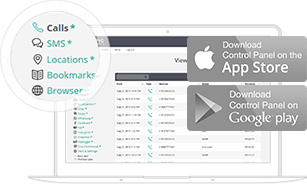 PumPic is a great app to use to monitor a child's iPhone or iPad. How does Pumpic help you monitor an iPhone? It lets you track incoming and outgoing calls and watch sent and received text messages. You can also view contact information and multimedia data on the target iPhone. This is an excellent monitoring app because it allows checking children's Internet activity. Does your child spend a lot of time online?
Track his/her iPhone browsing history and block websites that you consider harmful for the child. Parents have the opportunity to check social networks of Instagram, Facebook, and Twitter. They can monitor WhatsApp messages, read Viber, and spy on Snapchat messages their children exchange as well. What else do we love about this tracking app?
If the iPhone is stolen or lost, you can find it. Follow your child's GPS location and the entire route history. You should not worry about the process of installation of this monitoring app. It takes only around 3 minutes to install this app on the target iPhone. If you buy an app, you will get an email. To complete the process, follow the guidelines given in the email.
This is a visible monitoring application, and you need jailbreak to install it. Is it expensive? It is up to you to decide whether $23.99 per month for the Basic package is too much for your child's safety. The optimal option will be the Premium features plan, which costs $33.99 per month. The company has a 10-day refund policy. Always get money back if the app does not work for you.
What is the best free parental control app for iPhone?
There is no such as a free parental control app. For any platform. Some parental control apps like mSpy may offer goodwill refund policies or free trials, but no application is genuinely free.
There are apps, of course, which offer free versions. But these are very limited in terms of features and are not as effective as the paid versions. Hence for keeping track of your child's Apple iPhone, you should rely on an application like mSpy.
How do I monitor my child's iPhone?
The best iPhone monitoring software is mSpy. To use mSpy, you first have to check the compatibility of the mobile devices you'd like to monitor; then, you should purchase the appropriate subscription plan.
After you make the payment successfully, you'll receive an email with the login credentials using which you can log into your mSpy control panel.
Here you'll find all the necessary, simple installation instructions. You need to have physical access to the device you wish to monitor.  On the target mobile devices, you have to download and install mSpy.
Bear in mind that parental control apps are a good remedy to monitor whether your children use various services. However, your kids might try to outsmart thanks to today's technology. While some kids might spend their time on productive tech websites, experts at TechnonGuide warn that kids can bypass the restriction by cloning Spotify, or even certain social media apps to try to hide them. However, if you use a parental control app with a screen recording feature, you can catch them in the act.
With so much information available on the internet, parents want their children to learn new things, such as the difference between Arduino and Raspberry Pi, which are two popular types of circuit boards, for example.
Be advised, however, that by downloading and installing the app, you agree to abide by our terms and conditions, which clearly state that you can install mSpy on only your device, that of your under-age child's or that the owner of the device agrees to be monitored.