How to Delete History on Android Using the Most Popular Apps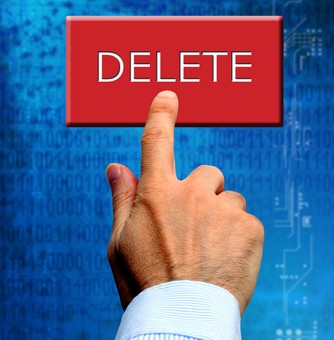 Do you need to delete history on Android or any other operating system? It is not a big deal so you can be calm and just follow the instructions.
We have prepared simple instructions about clearing a history of few the most popular web browsers compatible with Android. There are four of them, and each one has slight differences with others. Learning how to clear history on one browser, you can instinctively do it on any other one. Of course, we will also tell you about the standard built-in searching app provided by Android phones. But even if you use any other program that we described, it is not a problem as usually most of those browsers are very similar with their settings and menus.
Delete History on Android Browsers
So, here you have four main browsers most of Android phone owners use every day. It is very easy to clear each of them as all you need to do is just to deal with their Settings. Of course, you can use some special programs to delete your own phone and even other people's phones' history. But it is a topic for whole another article. We just want to say that those spy apps are very helpful, especially if you are a parent. So, let's start with the first program and its history:
Built-In Browser (Internet)
All of us Android users know the built-in Android browser as simply "the Internet," right? It is very easy to clear its history as all you need to do is just to:
Tap the Menu button
Select Settings section
Then in the Settings window go down the page to Privacy section
There you will find various points that should help you to erase your Android history in the most flexible way
Some of those options are great and helpful, especially if you do not want to clear up the entire Android history. Here are some of them:
Delete history
Delete cache
Remove all cookie data
Delete form data
Remove location access
Besides that, you can set the clearing feature to erase all the passwords that were saved on your Android phone at least once.
Android Google Chrome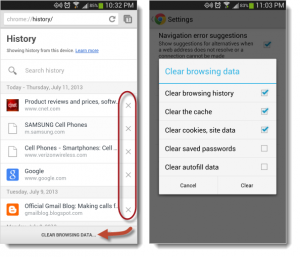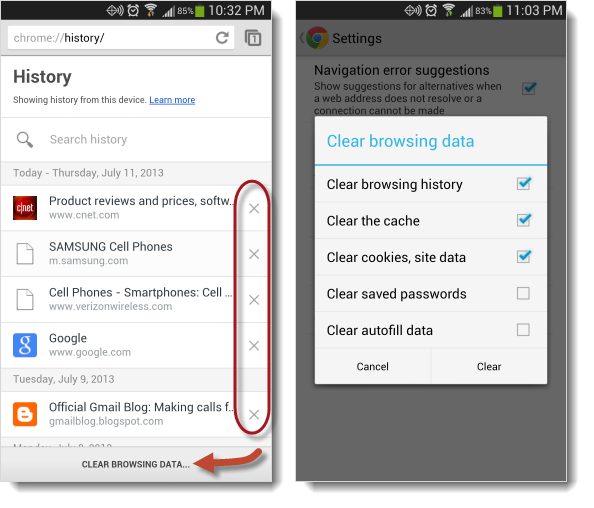 The case with Google Chrome is very similar to one we described earlier. All history cleaning actions should be done via the browser itself. Just find the Menu button and tap on it. Then in Settings section you should find and push the Privacy button.
In this section, you will find an option called "Clear Browsing Data." Yes, it is as simple as it sounds. This button is settled in the right-top corner of your phone's screen. Also, there you can use various options to choose what type of information you want to erase from history. Besides, Google Chrome provides its users with few other useful features:
You can try to press a thumbnail icon for some time, just a few seconds, actually. Do it on your new tab page and press Remove button. It will exclude any page you are visiting at the moment from the history of the browser.
There is a special Incognito mode available for all Android Chrome applications. In this mode, the application would not make any logs for the history at all.
Dolphin Browser
Dolphin is not the most popular web browser, but still, it has its own segment of users covered, and we should tell you more about its history clearing features. It is very easy to clear any history right within the app. Just tap the Menu button and choose Settings. There you'll find a section called Privacy & Personal Data. Here you can easily clear history points such as:
Besides that, Dolphin also has its analog of Chrome's Incognito mode. And the button is called very simple – Browsing Without History. It is permanent and should be turned off the same way. Besides, every time you want to leave Dolphin app it will ask if you really want to delete the entire history. So if you want to delete history on Android just tap Yes and it will be totally deleted. And it will do it the same way every time you close the application.
Firefox for Android
Firefox by Mozilla is, probably, the most popular web browsing app after Google Chrome. And the process of deleting your browsing info is also very simple as with Chrome. Just tap Settings and go right to the Privacy & Security options. Choose Clear Private Data and select all the history points you want to disappear from your device forever.
Opera Mobile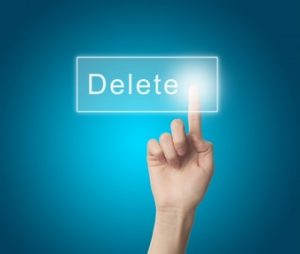 Opera is the third popular web browsing application among Chrome and Firefox. To delete its logged info, you also need to go to the menu button that looks like a stylized O. It is settled on the top of the window.
There you should tap the Settings button and go to the Privacy menu. The options are also very flexible, so you can choose what info you want to delete this time. You are free to choose from such points as:
Browsing history
Passwords
Camera info
Locations
Cache
Cookies
Also, you may use a special mode to prevent the app to log any history about your Internet activity. Besides, you may delete any page from a speed dial section. Just enter a speed dial page and hold any icon for few seconds. Then mark each thumbnail you want to delete from the list. After the procedure is over just tap the Done button which locates at the bottom of the screen. Here you are. There are no wrong pages at your speed dial page.