A Guide to Choosing the Best Internet Filter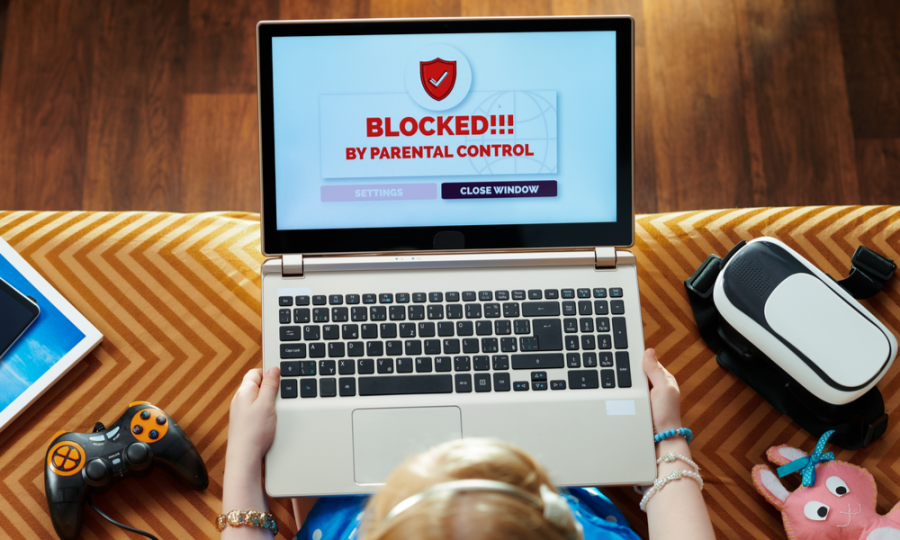 Choosing the right internet filter can be very stressful, as you want to ensure you fully protect your children from inappropriate content and Internet predators.
To help you out, we've reviewed various content filters and discovered that the best web filtering tools for parental control are:
Read on to learn why internet filters are vital, how they work, and how to choose the best one for your needs.
How to pick the right Internet filter for your needs?
To select the best internet filter for your needs, you need to consider:
The devices your kids use and their operating systems;
How you connect to the Internet;
Whether you want to block websites with pornographic content or other harmful sites too;
Whether you want to limit internet usage;
Over-blocking.
So, what is the best internet filter that can take your parental control to the next level? Which internet content filter can block specific websites based on keywords, URLs, or lists?
Here are the best internet filters for families that you can truly rely on.
mSpy
mSpy is an excellent iOS and Android internet filter for parental control. It lets you monitor your child's online activity, see WhatsApp conversations, view browsing history and website bookmarks, filter online content, and block inappropriate websites.
It also lets you track and manage visited Wi-Fi networks, and set alerts for the use of inappropriate keywords.
Mobicip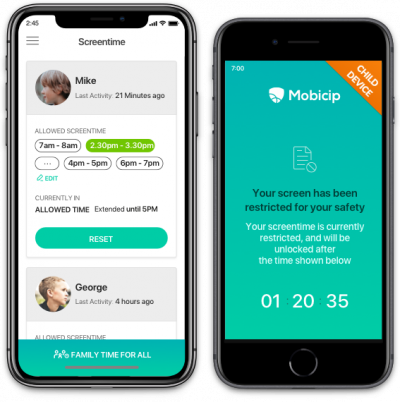 Mobicip is another powerful parental control internet filter for iOS and Android devices.
It enables you to block social platforms, games, streaming apps, adult sites, and other sites you choose. It also features a location tracker and lets you review four weeks of browsing history.
However, it doesn't let you set time limits, only screen time schedules.
This parental control app is also the best internet filtering software for schools.
Bark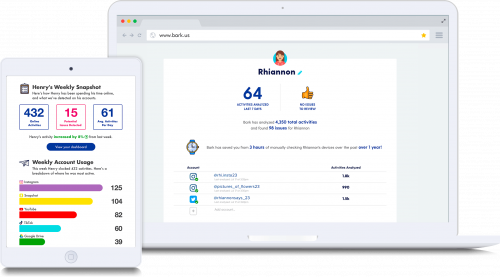 Bark is an award-winning parental control software that monitors social networks like Snapchat, search engines, browsers, apps, text messaging, and email, alerting you when it detects potential threats.
It works on Windows, Mac, Chromebook, iOS, Android, and Amazon Fire tablets.
This internet filter is great for both parents and schools.
Bark for Schools monitors G Suite and Office 365 accounts, filters online content, and blocks games, streaming services, adult sites, and other harmful content. It also has a parent portal.
Family Time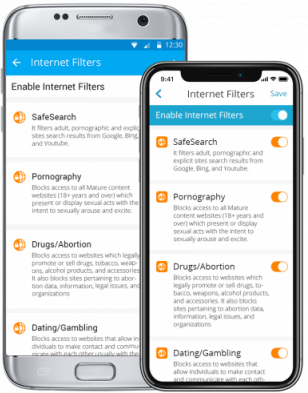 The FamilyTime parental control software also lets you filter online content and block unwanted websites.
Its SafeSearch filter blocks explicit and adult sites, its WebBlocker lets you select categories to block specific content, and you can even turn on blocking for specific keywords.
It's available for iOS and Android, and it's a great option for schools as well.
Why are Internet filters important?
There are a huge number of websites with content not appropriate for children, such as nudity, pornography, gambling, drugs, suicide, and much more.
There are also internet predators lurking on various sites, forums, and chat rooms.
That's why it's vital to block children's internet access to such web content, thereby protecting them from potential harm. This is where internet filters for parental control come in.
An internet filter (also known as a content filter or information filter) is web filter software that blocks access to websites of your choosing and filters harmful content.
It also has a feature for setting time limits, that is, restricting internet access during certain times.
How does content filtering work?

Content filtering tools filter web content depending on a user's age.
Once you set the age and other parental controls, it uses real-time filtering to block content not appropriate for children of that age.
You can also manually block and whitelist certain sites by entering their URLs.
An internet filter also serves as anti-porn software, blocking internet access to pornographic sites and other adult content.
So, to enhance your parental control, you should utilize an internet filter.
Why do schools filter the Internet?
Schools primarily utilize web filtering software to block access to social media and limit students' internet activity.
They also use content filtering software to limit access to Google and other search engines and ensure safe internet browsing.
The filter can also serve as an internet blocker that completely restricts access to certain websites, thus protecting students from harmful content.
Another big reason why schools use web filtering is to avoid legal liability.
Which function does Internet content filter not perform?
An important feature that an internet filter doesn't have is intrusion detection. Internet predators, scammers, and hackers could still breach your systems and even detect your location.
This is why you should combine your internet filter with a VPN. You'll be completely anonymous online and significantly improve your safety and data security.
The bottom line
Protecting your children from harmful online content is paramount, so you should definitely you're your parental control to the next level.
Harness the power of internet content filters and control your kids' internet access.
They won't be able to access blocked sites, so they'll be much safer, and you'll have a much-needed peace of mind.